IDENTITY THEFT PROTECTION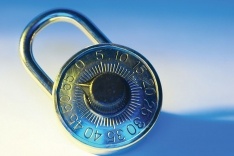 We're committed to helping you safeguard your privacy, so we've partnered with Harland Clarke to provide the services you need to keep your identity safe. To learn more about identity theft protection, visit the Harland Clarke website.
What is identity theft?
Identity theft affects over 11 million people every year. One identity theft typically takes 165 hours to restore (ITRC), and each year there are roughly $54 billion in total losses as a result (Javelin Strategy & Research). Identity theft is when someone, without your permission, uses any of your personal information (credit card, SSN, address, etc.) to commit fraud or other crimes. Identity theft costs millions of Americans time and money every year, and we want to help you avoid being one of them.
How can you protect yourself?
With the customizable services of Harland Clarke, you can choose the right protection to balance your budget and risk tolerance from month-to-month. With their Identity Restoration, they strive to restore your identity to pre-theft status to give you and your family peace of mind. You could start your protection with a simple Identity Protection package or something more in-depth. Either way, you can start enjoying the peace of mind you and your family deserve.