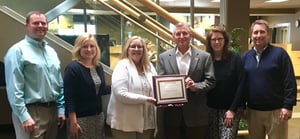 MSHDA recognizes Independent Bank for their participation in the Mortgage Credit Certificate program in 2017
Independent Bank was named a top 10 lender in the state of Michigan for participation in the Mortgage Credit Certificate (MCC) program through the Michigan State Housing Development Authority (MSHDA) in 2017.
The MCC program provides housing assistance by issuing a federal tax credit to first-time homebuyers across the state, as well as repeat homebuyers in designated areas. Qualified homebuyers can credit 20% of their annual mortgage interest paid against their year-end tax liability. This tax credit is available every year for the life of the original mortgage, and can be used with most traditional mortgage loan options.
Independent Bank offers more than 50 customizable mortgage programs, including conventional fixed rate loans, jumbo loans, professional loans, and construction loans. Whether you are a first-time homebuyer, or expanding to a second home, Independent Bank makes the mortgage process simple and convenient. Visit IndependentBank.com or call 800.355.0641 to learn more.