Independent Bank recently launched the Affordable Mortgage Program to assist low-income families in finding more flexible home financing options. Independent Bank is partnering with select non-profit organizations to provide options for families who might not otherwise have the opportunity for home ownership.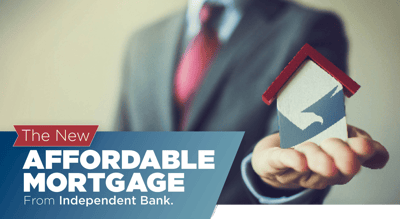 Eligible borrowers have two financing options to choose from, either the Independent Bank Community Affordable Mortgage or the Independent Bank Community Grant. The Affordable Mortgage would provide borrowers with purchase money for a home at a 30-year fixed rate, and up to 97% loan to value. Loan to value is the mortgage amount as compared to the home's value or purchase price, whichever is less. There would also be no up-front mortgage insurance premiums and no monthly mortgage insurance requirements. A second financing option for customers would be the Community Grant, which would be applied toward closing costs and up to $1,000.
To learn more about Independent Bank's Affordable Mortgage program, contact a local Independent Bank Mortgage Specialist, or visit IndependentBank.com.