Why I Love Independent Bank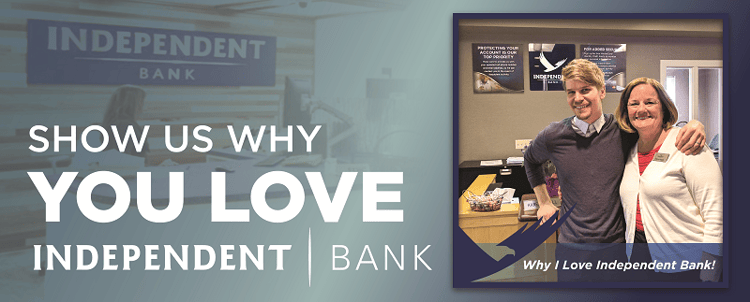 We hosted a social media contest from May 1-31, 2017. We wanted to see just what everyone loves about Independent Bank!
Participants visited IndependentBank.com/Why-I-Love-IB to upload their photos of what they love about the Bank—friendly staff, community involvement, products and services, etc. They were able to add fun frames and stickers to their images and a short explanation. They then shared those photos on Facebook and Twitter with family and friends.
As an added bonus, we randomly selected one winner who posted a photo (see Official Rules), and they won a $100 Visa Gift Card just for sharing why they love Independent Bank on social media!
Winner

–

Karen Flanigan - "This is where I hang my hat. My home is financed by Independent Bank. Pretty cool!"

View the gallery of submissions below: