Independent Bank celebrates 30th Anniversary of being listed on Nasdaq

Executive team members and Board members of Independent Bank, visited the Nasdaq MarketSite in Times Square in New York City on Monday, September 21, 2015 and rang The Nasdaq Stock Market Closing Bell.
Independent Bank Corporation is celebrating its 30th anniversary of being listed on Nasdaq in 2015. In honor of the special occasion, President and Chief Executive Officer, William (Brad) Kessel, rang the Closing Bell. Kessel was joined by the bank's Executive Team, as well as Independent Bank Board members.
The bank was founded in Ionia, Michigan in 1864 as First National Bank of Ionia, and celebrated its 150th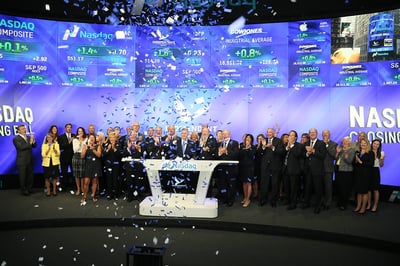 anniversary in 2014. It is currently the fifth largest bank headquartered in Michigan. They chose to celebrate their large milestone last year with the volunteer service project "150 Ways in 150 Days," which included 150 local volunteer service days in the bank's communities. They are continuing these community efforts in 2015 with their "Investing with You" campaign, in which they are giving away a total of $60,000 throughout the year to various schools and non-profit organizations.
"Focusing on our customers and communities has, and always will be, our foundation," says Kessel. "As a community bank, we are thrilled to celebrate these two great milestones in 2014 and 2015, and we look forward to many more great achievements in the future."
The full video of the ceremony can be viewed here.