Tara Binder, Bank Manager of Independent Bank Standish office, volunteered over 650 hours in 2017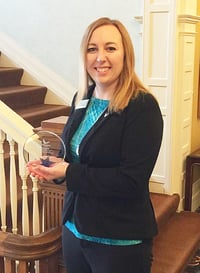 Independent Bank recently honored Tara Binder, Bank Manager at Independent Bank's Standish office, with its first-ever Volunteer of the Year Award. In 2017, Binder devoted 663 hours to volunteering in her local community.

Giving back to the community has always been very important to Binder, who says that she "can't think of a time [she] didn't do this." In her senior year of high school, she was president of her school's volunteer organization, People Helping People. Binder now serves as President of the Standish Chamber of Commerce, vice chair of the Arenac Community Funds Committee, assistant coach of a varsity dance team, and also volunteers with the American Cancer Society, Habitat for Humanity, and other organizations.
"I keep pretty busy," she says. Inspired to volunteer by her father, Binder has also inspired those closest to her to volunteer as well. "Everything makes an impact. I've seen first-hand how it helps our community," says Binder.