Independent Bank Corporation (NASDAQ: IBCP), the holding company of Independent Bank, a Michigan-based community bank, announced that it has promoted Russ Daniel as Executive Vice President – Operations and Digital Banking, and Patrick Ervin as Executive Vice President – Mortgage Banking.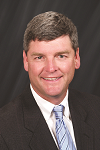 Russ Daniel has held numerous roles with the Company, including most recently Senior Vice President of Retail and Mortgage Lending at Independent Bank. In his new role, he will be responsible for Loan Servicing, Deposit Operations, IB Insurance Services, as well as Independent's digital banking strategy.
Mr. Daniel joined Independent Bank over 19 years ago as a commercial lender, after nine years of commercial and retail bank management experience in both Baltimore, Maryland and West Michigan. He has a BBA from William and Mary and an MBA from Western Michigan University. He is currently Board Chair of the State of Michigan Habitat for Humanity and a Board Member of the Habitat Michigan Fund.

Patrick Ervin joined Independent Bank in September 2016, as Senior Vice President Mortgage Banking. He has been instrumental in leading the organization's growth into additional markets in Southeast Michigan and Ohio, more than doubling Independent's mortgage volume in one year.
Mr. Ervin brings 25 years of experience in the mortgage arena with a resume that includes 1st Vice President Standard Federal Bank and Vice President TCF Bank. Most recently, he was Executive Managing Director Mortgage Banking and Servicing at Talmer Bank and Trust, where he grew retail originations to over $1.4 billion annually and managed over $6 billion of mortgage loan servicing.
"We are pleased to welcome both Russ and Pat to the Executive Team of Independent Bank. The vast experience and success that Russ brings, along with Pat's record of dramatic growth through sustainable sales and operations, are highly valuable assets to our Company," said President and CEO, Brad Kessel.