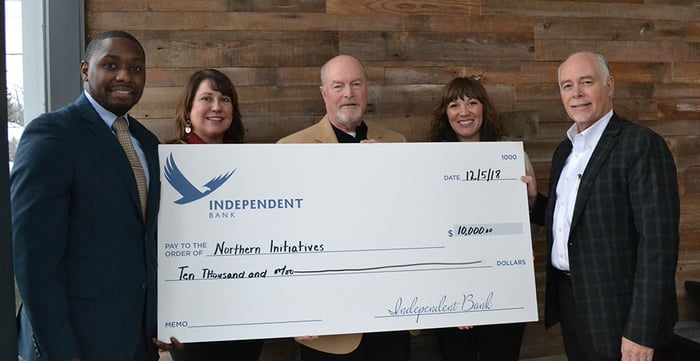 Independent Bank recently presented Northern Initiatives (NI) with a $10,000 general fund grant. The grant will help assist with expenses as the non-profit works to provide support and financing for local small businesses.
Northern Initiatives is a non-profit organization, and certified as a Community Development Financial Institution Fund by the U.S. Department of Treasury. Originally founded in Marquette in 1994 to provide alternatives to traditional lending, the company has since financed more than $60 million in loans in Michigan's Upper Peninsula, and has expanded into the Lower Peninsula as well. In 2017, they added Muskegon and Grand Rapids to their growing list of Michigan counties they serve, which includes 73 of the 83 counties throughout the state.
Since 1994, they have made it their mission to provide loans to small businesses that may not typically qualify for traditional financing options.
"Access to capital is one of the leading barriers entrepreneurs face when looking to start a business," said Dennis West, president of Northern Initiatives. "It's not just capital. Small businesses, particularly startups, also need know-how. We provide loans and business services to entrepreneurs and small business owners who might not qualify for traditional financing, and with help from Independent Bank, we will be able to increase access to capital and know-how, especially for minority and underserved borrowers, in Kent County and surrounding areas."
"We recognize and value the efforts of Northern Initiatives as they impact so many of the same markets as Independent Bank. Through their unique approach to lending and coaching to minorities and small businesses, they are able have a meaningful impact in ways that traditional banks typically can't," said Pete Graves, CIO at Independent Bank.
Independent Bank is proud to partner with Northern Initiatives to continue supporting small businesses in our communities.