4th largest Michigan-based bank participated in 3rd annual company-wide volunteer day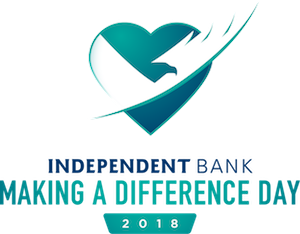 Independent Bank closed its offices on Columbus Day, October 8, 2018, to participate in its third annual all-employee volunteer day. Independent Bank's employees took part in "Making A Difference Day," where they volunteered in teams across Michigan and parts of Ohio.
Employees selected from a variety of organizations and non-profits throughout their local communities to give back for the day. Taking part in volunteer activities, ranging from building houses in Grand Rapids for Habitat for Humanity of Kent County, to sorting recycling items for Recycle Ionia, to cleaning up at Pine Ridge Soldier's Rest Civil War & Pioneer Cemetery Rest Cemetery in Bay City, the Independent Bank teams definitely made a positive difference in their communities.
"Our employees look forward to Making a Difference Day every year because they can see the positive impact their volunteer efforts have on our local communities," said Tricia Raquepaw, SVP, Marketing Director at Independent Bank. "It's a great feeling knowing that we have the opportunity to give back and truly help some wonderful organizations."
Visit Independent Bank's Facebook page at Facebook.com/IndependentBank to see photos and videos from the day.