Brad Kessel, President and CEO, describes the importance of Junior Achievement
Article provided by Junior Achievement of the Michigan Great Lakes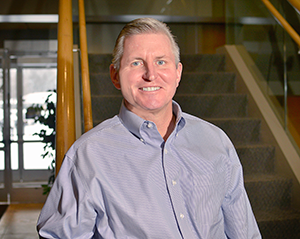 Twenty years ago, I entered an elementary school classroom at Saranac Elementary as a Junior Achievement volunteer, in order to teach students about money management. Since then, I have continued to invest my time in JA as a volunteer, and now as a board member, because I believe the development of solid personal financial management skills at a young age is extremely important. The earlier these skills are learned the better.

Through my participation on the board at Junior Achievement of the Michigan Great Lakes, I have not only been a part of building within kids strong planning and decision making skills, confidence, and other qualities that will translate into leadership for the future; I've also made connections with other successful business leaders in my community. I believe in JA as a great conduit between the business community and the education community.
My role with JA has evolved similarly to my career. I started working with Independent Bank in 1994 and have held numerous positions since then. I currently serve as President and CEO. Along the way, I've had mentorship and guidance from others who invested their time in me. I am honored to have the opportunity to invest my time in the mentorship of others.
Independent Bank is also committed to improving financial literacy in the community. In 2017, Independent Bank associates volunteered a total of 1,800 hours providing financial literacy education across Michigan, 325 of those hours were in 15 Grand Rapids schools, with 45 volunteers teaching Junior Achievement programs.
In honor of Financial Literacy Month, I offer my personal advice. This may seem simple at first, but it can indeed be the hardest to accomplish—Parents: discuss finances with your kids. Students: save more, spend less. If you need a little guidance in knowing where to start, Junior Achievement and Independent Bank are committed to helping.
Independent Bank is proud to sponsor an event that will honor outstanding entrepreneurs and role models who demonstrate a strong commitment to the community and our next generation of leaders. For 25 years, the Junior Achievement West Michigan Business Hall of Fame has honored these community leaders with an induction ceremony. I invite you to share in this important event, which will take place on Monday, May 21, 2018 at the Amway Grand Plaza Hotel, 187 Monroe Ave NW, Grand Rapids, MI 49503. A cocktail reception will kick off the event at 6:15 pm, followed by dinner and the induction ceremony at 7:15 pm.
To reserve tickets or become a sponsor, please call Jay Ediger at 616.575.9080, ext. 227. You can also email jay.ediger@ja.org. Proceeds benefit Junior Achievement programs in West Michigan.
Brad Kessel is President and CEO of Independent Bank. Kessel also serves on the Board of Directors for Junior Achievement of the Michigan Great Lakes, as well as a committee member for the Junior Achievement Business Hall of Fame.