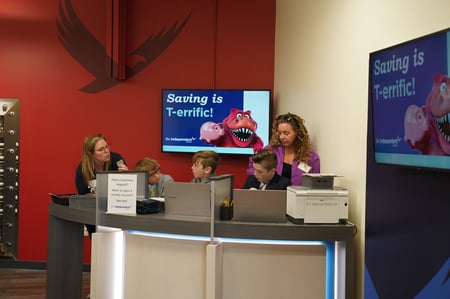 The new Tom Fox Family JA BizTown® facility in Grand Rapids officially welcomed its first group of students on April 14, 2023. The facility is located at 4090 Lake Dr. SE in Grand Rapids.
Independent Bank was excited to join several other participating businesses, including Bissell, Perrigo, Meijer, and Chick-fil-A in a full day of learning fun. Fifth and sixth grade students participated in the simulated business community, where they were able to apply, interview, and work at various businesses, including Independent Bank.
Students who selected to work at Independent Bank for the day chose between six available positions, including the CEO, CFO, Bank Manager, Client Sales Associate, and more. Students processed citizens' checking deposits and cash withdrawals, assisted customers in opening savings accounts, processed business loan applications from other businesses within the community, and other financial duties.
"We are excited to see this wonderful initiative come to fruition," said Matt Greene, Senior Vice President, Chief Marketing Officer at Independent Bank. "We are looking forward to watching students expand their knowledge of financial literacy as they participate in this very unique experience."
Independent Bank is a full-service bank, offering retail and lending products, commercial banking, the latest in mobile and online banking technology, as well as investments and title services. To learn more about Independent Bank, please visit IndependentBank.com.