Housing our Communities – Homeless Shelters, Housing Projects, and Home Building Centers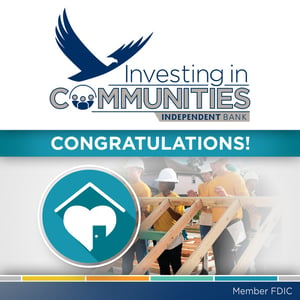 Independent Bank continued their 2017 donation campaign, Investing in Communities, in September with four local housing non-profit organizations each winning $5,000. The third phase of the campaign focused on housing our communities, with homeless shelters, housing projects, and home building centers being the benefiting organizations.
The public had the opportunity to nominate a local housing non-profit September 1-8, 2017. Qualification criteria included a non-profit's location being in a Michigan county that Independent Bank serves, or within 10 miles of a Michigan branch or loan production office, as well as it being considered a 501(c) non-profit organization. There were a total of 54 qualified non-profit organizations nominated, and 7,745 votes cast during the third phase. The voting period took place September 15-29, 2017. Eligible voters had to be 18 years or older with a valid Facebook account, and be a resident of Michigan for the votes to qualify. Voters were able to vote once per day for the entire voting period.
The winning housing non-profit organizations were:
City Rescue Mission – Saginaw County
Communities First, Inc. – Genesee County
Community Home Solutions – Bay County
Hope 101 Ministry, Inc. – Newaygo County
"Helping to provide housing for our community members is important to Independent Bank," said Senior Vice President of Marketing, Tricia Raquepaw. "It's amazing to think about how many in our communities do not have a safe place to sleep at night, and being able to help make this possible has been such a rewarding experience."
The fourth and final phase of Investing in Communities is currently underway, with nominations running November 1-8, 2017, and voting taking place November 15-29, 2017. This phase is focused on serving our communities, and is benefiting local military non-profit organizations, including veterans programs, military outreach groups, and active duty support services. Visit IndependentBank.com/Investing for Official Rules and to learn more.