Four non-profits were awarded $5,000 for receiving the most votes in Investing in Communities contest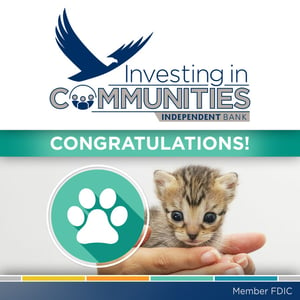 Independent Bank continued their 2017 donation campaign, Investing in Communities, in June with four local animal non-profit organizations each winning $5,000. Throughout the year, employees are donating $1.50 every Friday to wear jeans, and the Bank is matching those donations for a total of $80,000 for 2017. 16 different non-profits will each win $5,000 to put toward their mission. The campaign includes four phases throughout the year, and is designed to help local organizations that help our communities in a variety of ways—by feeding, protecting, housing, and serving community members.
The second phase of the campaign focused on protecting our communities, with humane societies, animal shelters, and animal rescue centers being the benefitting organizations. The public had the opportunity to nominate a local animal non-profit June 1-8, 2017. Qualification criteria included a non-profit's location being in a county that Independent Bank serves, or within 10 miles of a Michigan branch or loan production office, as well as it being considered a 501(c) non-profit organization. There were a total of 41 qualified non-profit organizations nominated, and just under 40,000 votes cast during the second phase. The voting period took place June 15-29, 2017. Eligible voters had to be 18 years or older with a valid Facebook account, and be a resident of Michigan for the votes to qualify. Voters were able to vote once per day for the entire voting period.
The winning animal non-profit organizations were:
Amazing Grace Animal Rescue – Saginaw County

Humane Society of West Michigan – Kent County

Michigan Pit Bull Education Project – Oakland County

Saginaw County Animal Care and Control – Saginaw County
"We are proud to have the opportunity to further our investment in our communities this year," said Senior Vice President of Marketing, Tricia Raquepaw. "It's great to see all of the wonderful things these organizations are able to accomplish."
Phase three of Investing in Communities will take place in September, benefitting local housing non-profit organizations, with housing our communities as the focus. Visit IndependentBank.com/Investing-in-communities for Official Rules and to learn more.