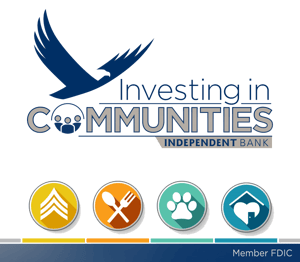 Independent Bank is proud to announce that they will continue their community donation efforts in 2017 with their new campaign, "Investing in Communities." They will be giving away a total of $80,000 to 16 local non-profit organizations in communities served by Independent Bank. The campaign will be broken into four phases throughout the year, focusing on different ways Independent Bank can make a difference in their communities—feeding, protecting, housing, and serving community members.
Independent Bank is increasing their annual donation to $80,000 for 2017, from the $60,000 that they donated with their previous campaigns "Investing With You" in 2015, and "Investing In Youth" in 2016. They will also be benefitting 16 local non-profits, an increase from the 12 organizations they were previously able to assist, with each receiving $5,000.
The first phase of the campaign will focus on feeding our communities, with food banks, food pantries, and soup kitchens being the benefitting organizations. Phase two will aim to protect our communities, and will support animal shelters, humane societies, and animal rescue centers. The third phase will house our communities, benefitting homeless shelters, housing projects, and home building groups. Finally, the campaign will conclude with the fourth phase of serving our communities, benefitting veterans programs, military outreach groups, and active duty support services.
Phase one of the campaign will begin March 1, 2017, with community members nominating a food bank, food pantry, or soup kitchen they would like to win $5,000. Nominations will take place March 1-8, 2017 at IndependentBank.com/Investing. Non-profit organizations must be located in Michigan counties served by Independent Bank, or within 10 miles of a Michigan Independent Bank branch or loan production office. Community members will then be able to vote on nominated non-profits March 15-March 29, 2017. Votes may be placed up to once per day, and voter must be 18 years or older, and have a valid Facebook account. The four non-profits with the most votes will each win $5,000 from Independent Bank. Official Rules are available at IndependentBank.com/Investing.