The Cities for Financial Empowerment Fund's Bank On National Account Standards Certification of Opportunity ONE indicates that it meets over 25 features for safe and affordable consumer transaction accounts.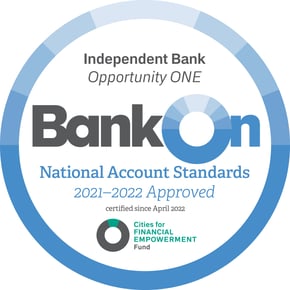 Independent Bank recently announced that its Opportunity ONE account was officially certified by the national Cities for Financial Empowerment Fund (CFE Fund) as meeting the Bank On National Account Standards (2021 - 2022). The national safe account Standards, co-created by consumer advocates, leading national nonprofit organizations, civic leaders, and other financial institutions, designate both core and strongly recommended features that ensure low cost, high functionality, and consumer safety.
Key features of Opportunity ONE include no monthly service fee, no overdraft or nonsufficient fund fees, the ability to pay bills and make purchases, and federal deposit insurance. Opportunity ONE is available to open in every Independent Bank branch.
"Independent Bank is proud to offer our customers a nationally-certified, safe, and affordable account with Opportunity ONE," said Brad Kessel, President and CEO of Independent Bank. "This account is an excellent tool for customers who are looking to rebuild or reestablish a positive checking account relationship, and just another way that we are helping our customers Be Independent."
"The Cities for Financial Empowerment Fund is delighted to award its national Bank On account certification to Independent Bank's Opportunity ONE account," said Jonathan Mintz, President and Chief Executive Officer of the Cities for Financial Empowerment Fund. " Independent Bank offers Michigan residents who are looking to improve their finances a safe, affordable, and truly useful mainstream banking product– this is especially important during COVID-19, as consumers need to access and manage their money both affordably and safely. Independent Bank's offering of this terrific account brings them into the forefront of national banking access efforts, and we thank them."
The goal of Bank On is to ensure that everyone has access to safe and affordable financial products and services. The Bank On National Account Standards identify critical product features for appropriate bank or credit union accounts, making it easier for local coalitions across the country to connect consumers to accounts that meet their needs.
With the addition of Independent Bank's Opportunity ONE, accounts that meet Bank On National Account Standards are now available at over 39,000 branches in all 50 states and Washington, DC; financial institutions with Bank On certified accounts already comprise over 56% of the national deposit market share. In addition to Opportunity ONE, there are over 200 other Bank On certified accounts available at financial institutions across the country. Data collected by the CFE Fund in partnership with the Federal Reserve Bank of St. Louis through Bank On's national reporting platform shows that these accounts are meeting consumers' needs; since their offering, millions of consumers have opened Bank On certified accounts, with approximately 85% of them opened by consumers new to the financial institutions.
The CFE Fund leads the national Bank On movement, supporting 90 local coalitions working to connect individuals and families to the financial mainstream through partnerships between governments, financial institutions, and community organizations. To learn more about Bank On and the National Account Standards click here, or follow the conversation on Twitter @CFEfund #BankOn.