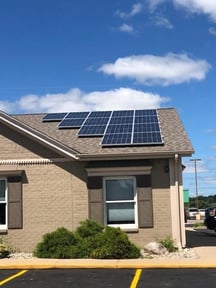 Independent Bank recently completed a full-branch solar panel installation at its Cedar Springs location. The Bank selected the Cedar Springs branch to pilot solar panels based on its ideal footprint, as well as its elevated utility expenses. This installation is part of Independent Bank's ongoing initiative to be more energy efficient.
Independent Bank plans to offset 39% of its energy usage at this location with the addition of the solar panels. "Our focus is to continually improve efficiencies, both from an environmental and cost perspective," said Kirk Smith, First Vice President, Facilities Director at Independent Bank.
To learn more about Independent Bank, please visit IndependentBank.com.