INTRODUCING THE NEW INDEPENDENT BANK ALTITUDE CD!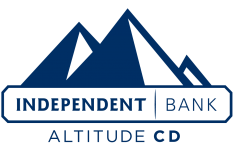 Reach higher with the Altitude CD with FDIC Insurance.*
Now you can achieve potentially higher returns than traditional CDs with rates linked to the stock market. And with FDIC insurance you can climb for the summit with your feet firmly on the ground.
Contact Independent Financial and Insurance Services for more information at 800.300.0459.
*Up to $250,000 per issuer, per depositor, per account ownership category when held to maturity. Covers invested prinicipal only, which does not include returns lost due to market volatility.
Marketing-Linked Certificates of Deposit (CDs) are not appropriate for all depositors and carry certain risks including liquidity and potential loss of prinicpal if redeemed prior to maturity. Please contact your financial consultatn for more information.
Please refer to the Prospectus for a full list of Risk Factors • If redeemed prior to maturity, the amount received will be subject to market risk including interest rate fluctuations • Market-Linked CDs may have longer maturity periods than traditional CDs, and are not appropriate for all depositors including clients needing a guaranteed interest payment or seeking full participation in the stock market • Market-Linked CDs may be callable by the issuer prior to maturity and are subject to specific risks associated with the market to which their performance is linked • Market-Linked CD performance may not reflect the full performance of the referenced market due to possible performance caps • Generally, the price at which you buy a Market-Linked CD includes certain embedded costs. These costs can include distribution fees paid to selling agents, hedging and structuring fees incurred by the product issuer for assuming risks obligations under the CDs. • Securities offered through Cetera Investment Services LLC, Member SIPC • Advisory services offered by Cetera Investment Advisers LLC. With the exception of Altitude CDs, investments are: • Not FDIC insured • May lose value • Not financial institution guaranteed • Not a deposit • Not insured by any federal government agency.