LOAN SPECIALS
Open Road, Open Water Loan Special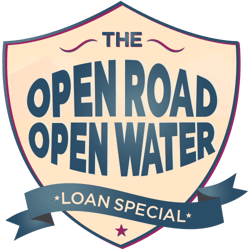 Speed off into the sunset with our Open Road, Open Water Loan Special. Find affordable adventures with great rates on boats, RVs, and more. With our SwiftLoan* same-day closing, you can get a head start!
3.99% 4.04% APR+
For questions, please stop by your local Independent Bank office or call 800.285.3111.
*Same-day closing does not apply to loans secured by real estate. Completed application must be received by 2:00 pm EST.

+The 4.04% APR is based on a $50,000 180-month collateralized installment loan with a monthly payment of $370.86. Other promotional rates apply for terms up to 180 months. Please consult with a lender for details. $175 processing fee applies. Eligibility for promotional rate requires auto pay from an Independent Bank account. Borrowers and collateral must meet standard qualification criteria. Borrower minimum credit score of 700. Loans greater than $50,000 will be .25% higher in rate. Only new Independent Bank loans are eligible for promotional rate. Does not include loans to fund post-secondary educational expenses or those secured by real estate.
Promotion begins February 1 and ends March 31, 2018.