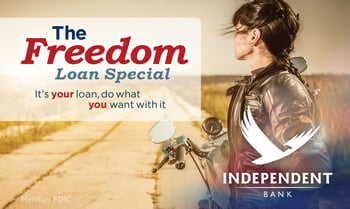 LOAN SPECIALS
Freedom Loan Special
It's your loan, do what you want with it!
2.49% 3.86% APR+
Buy a car, boat, RV, or motorcycle
Make home improvements
Take a vacation
Reduce rates by refinancing your personal loan from another bank to us*
With our SwiftLoan** same-day closing, you can get a head start!
+3.86% APR. Payment amount of $350.21 based on a 30-month loan for $10,000. We also offer a 2.99% rate and 3.276% APR. Payment amount $452.29 based on a 5-year loan for $25,000. Rates subject to change. For additional information about rates, contact your local office. Eligibility for promotional rate requires auto pay from an Independent Bank checking account and is limited to non-real estate collateralized loans that are fully amortized. Bank standard maximum term for collateral applies. Refinances of current Independent Bank loans are ineligible. Borrowers must meet standard qualification criteria, including a minimum credit score of 700. Loans greater than $50,000 will be .25% higher in rate. Does not include Personal Line of Credit, Loans secured by real estate, or loans to fund post-secondary educational expenses. Promotion begins May 1 and ends July 15, 2018.

* Only new Independent Bank loans are eligible for promotional rate.

** Completed application must be received by 2:00 PM EST.