LOAN SPECIALS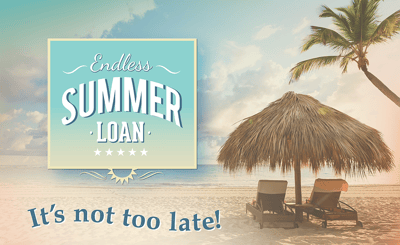 With just a small monthly payment, the options are endless!

Update home appliances
Go on vacation
Buy a new jet ski or ATV*
Pay off student loans
*Borrowers must meet standard qualification criteria, including a minimum credit score of 700. Requests for secured loans with credit scores less than 700 may be eligible for approval. Please consult with a lender for specific details. Payment amount of $210 based on a 60 month loan for $10,000 at 8.75%/9.50% APR with a standard $175 processing fee. For additional information about rates, contact your local office. Eligibility for interest rate is limited to new Independent Bank loans and requires auto pay from an Independent Bank deposit account. Refinances of current Independent Bank loans are ineligible. Does not include Personal Line of Credit, Home Equity Line of Credit, or loans to fund post-secondary educational expenses. Promotion begins August 15 and ends September 30, 2018.