For added security, you can also enroll in Mastercard® Identity Theft Alerts.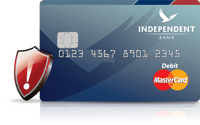 Receive real-time email alerts when your personal information is potentially compromised. Select any or all of the personal information you would like monitored for FREE* (Social Security number, driver's license number, bank account information, etc.). Enroll at Mastercard.us/idtheftalerts.
*Must have a Mastercard to enroll in the service, but you are not limited to loading only Mastercard for monitoring.
©2016 Mastercard. Mastercard is a registered trademark of Mastercard International Incorporated.